Welcome to The GWMSC!
Saying farewell to a brother and former president of the club: Mo Nafzinger
The 2020 Annual Meeting of the George Washington Masonic Stamp Club was held on Sunday, February 23, 2020 in the North Lodge Room of the George Washington Masonic National Memorial Alexandria, VA. It was a rousing suscess starting with the usual cover and stamp exchange in the anti-room before the meeting, followed by the Annual Meeting.
During this years meeting the club voted on and approved 5 new members and confirred the Master of Philately degree for 6 members.
Election of club officers were held, approved and accepted.
Our newly made Immediate Past President, Walter P. Benesch, of Maryland has faithfully served the club as President from 1991-2014 and 2016-2020. Although he'll remain an active member, his outgoing message will be posted here shortly. His successor and our new club president for the 2020-2022 term is Stefan Benjamin Dodson.
Our long time Cachet Chair, Michael R. Aulicino asked for someone to step in and replace him for the production and sales of covers. Our webmaster, Jeffrey M. Coney will continue production and sales as our newly elected Cashet Chair for the 2020-2022 term with plans for an improved cover sales section on our website.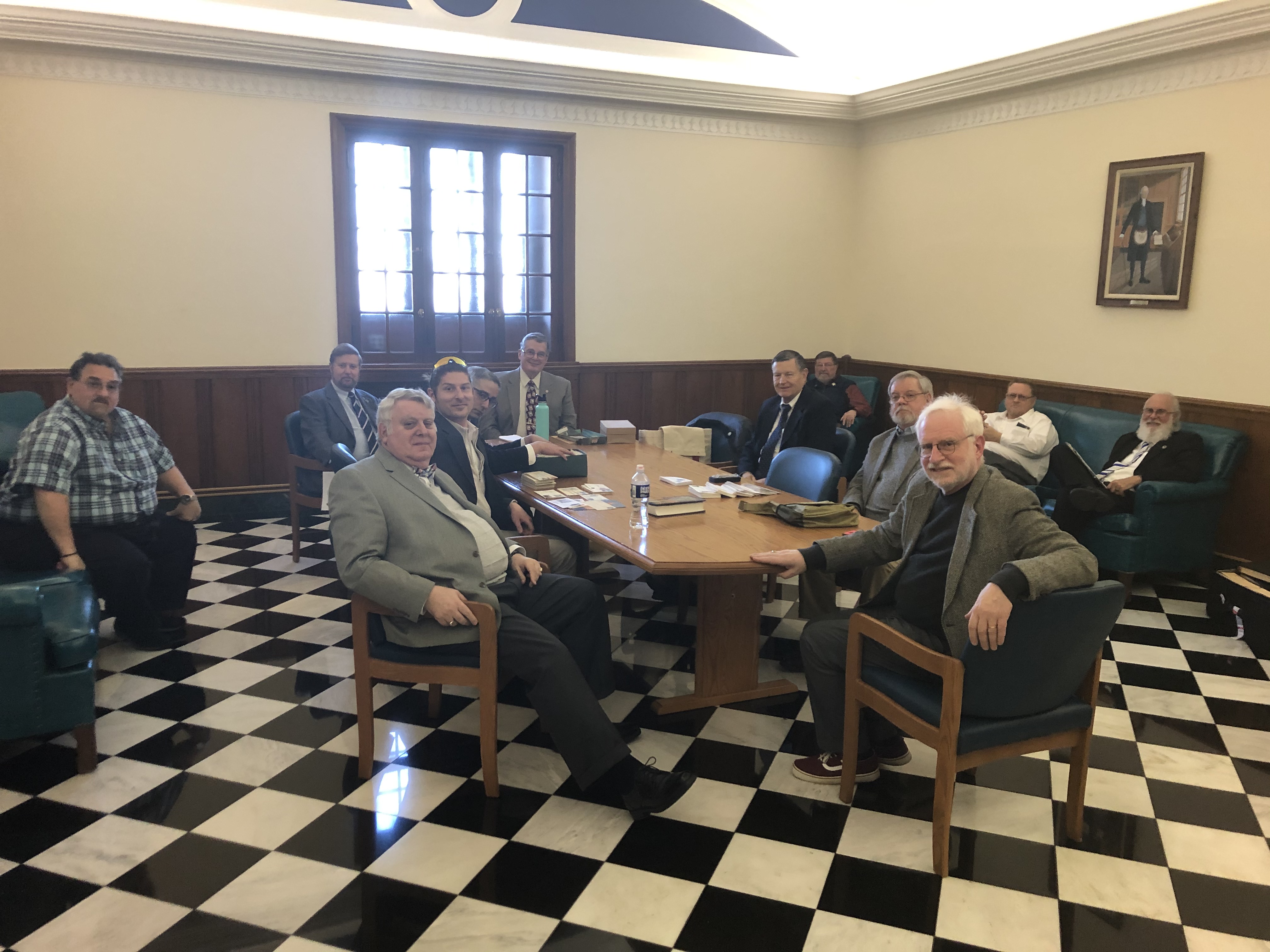 Some club members and candidates talking Philately and Masonry in the anti-room before the 2020 meeting.
After the meeting, officers and members retired to Joe Theismann's Restaurant for dinner and a presentation from Walther Benesch "Dark Matter & Unseen Worlds" followed by disscussions and fellowship. To paraphrase some of Walter's comments, "this was an uplifting meeting and we have a renewed enthusiasum".
Read the Presidents 2020 Message.
What's new?
Our Website will be seeing some new features and changes during the month of March 2020. Some have already started:
Additions to the 'Articles' page have been made,
We will be revamping the Cover Sales page and adding a shopping cart for online sales,
At that time, vistors will also have the option to submit membership applications and pay their one-time dues on line,
Updates will also be made to improve our contact form.
Not a member yet?
Membership Applications will be balloted upon at each meeting, and require a completed application, payment of the $20.00 Life Membership fee, and evidence of current membership in a recognized blue lodge (photocopy of current 2019 or 2020 Blue Lodge dues card, or letter from the Lodge Secretary on Lodge letterhead from a recognized Lodge).
At this time the linked Life Membership Application must be printed and mailed. Future additions to this site under consideration include an online application and payment method.
The Master of Philately Degree:
On May 19th 1947, during the fourth CIPEX (Centenary International Philatelic Exhibition) held in New York City, the Master of Philately Degree was first conferred. Originally managed by the Masonic Stamp Club of New York, currently the degree is under the control of the George Washington Masonic Stamp club (GWMSC) and is conferred once a year during our annual meeting in February.