George Washington Masonic National Memorial Covers
eBay is not necessarily the best value or best source for Masonic cachets!!!
The George Washington Masonic Stamp Club (GWMSC) and the Masonic Stamp Club of New York have regularly produced U. S. Masonic First Day and special event covers for many decades, but where do you find the illusive ones that are not produced by the clubs?
Well, eBay listed (Jan.-Feb.2002) one sponsored by the George Washington Masonic National Memorial for the February 22, 1982, First Day of Issue depicting Washington in Masonic Procession at Christ Church Philadelphia.
One must ask: What was the occasion? Who produced it? Were there any others?
1982 marked the 250th Birthday of George Washington! The cachet depicts one of two Masonic Murals just inside the entrance of the George Washington Masonic National Memorial [GWMNM] building. These murals are extremely large, and cannot be photographed in their entirety due to large pillars in the building obstructing the view. This full color cachet was printed showing the entire mural. Its sister cachet, G.W. "Laying the Cornerstone of the U.S. Capital in Masonic Ceremony," was also sponsored by the GWMNM.
Both cachets are still available from their producer, Brother John R. Allen, for below the lowest price that a single cachet was offered on eBay. You may order for $4.50/set of two, plus $1.00postage & handling. In other words, you get the set of 2 if you do not already have them, for the price that only one(1) cachet would cost (at minimum) on eBay.. A picture of the one at Christ Church is shown by clicking the Link below, and there is a direct link to the eBay offer (while it is valid).
Request the GWMNM 1982 set of two Masonic cachets by sending $5.50 (including shipping/handling) to:
John R. Allen
2831 Swanhurst Drive
Midlothian, VA 23113-2278
USA
Allow 3-4 weeks for receipt of order. Half the proceeds will be donated to the GWMNM, as was done when issued in 1982.
Oh, YES, there are others! The set actually consisted of five (5) Masonic cachets:
The two mentioned were sponsored by the GWMNM, a third by the Supreme Council AASR, NJ (a larger/partial version of Washington Laying the Cornerstone), a fourth by Knights Templar Eye Foundation, and a fifth by Louisiana Lodge No. 102,F&AM (formerly New Orleans, now Harahan, LA, Brother Allen"s Mother Lodge). 4 are in full color, while the 5th kept the Louisiana Lodge format of a light blue envelope thermo-engraved in dark blue. All five (5) may be ordered for $13.00 including U.S./Canada shipping, or $14.00 outside the U.S. and Canada.
Caution: A printer error on the AASR cachet showed Supreme Court on the initial envelopes, and were corrected to Supreme Council in a subsequent printing. While you cannot be guarantee done or the other, if you please specify your preference well try to accommodate your wishes. A single AASR cachet of your choice, from 02/22/1982, without any others ordered is $3.00 including shipping.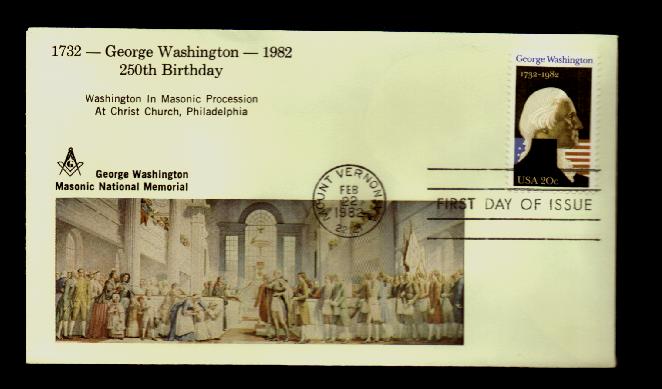 While this web site is intended for GWMSC covers, the remainder of this set may be pictured on this site in the near future for your information. Do not pay double the price on eBay, brothers!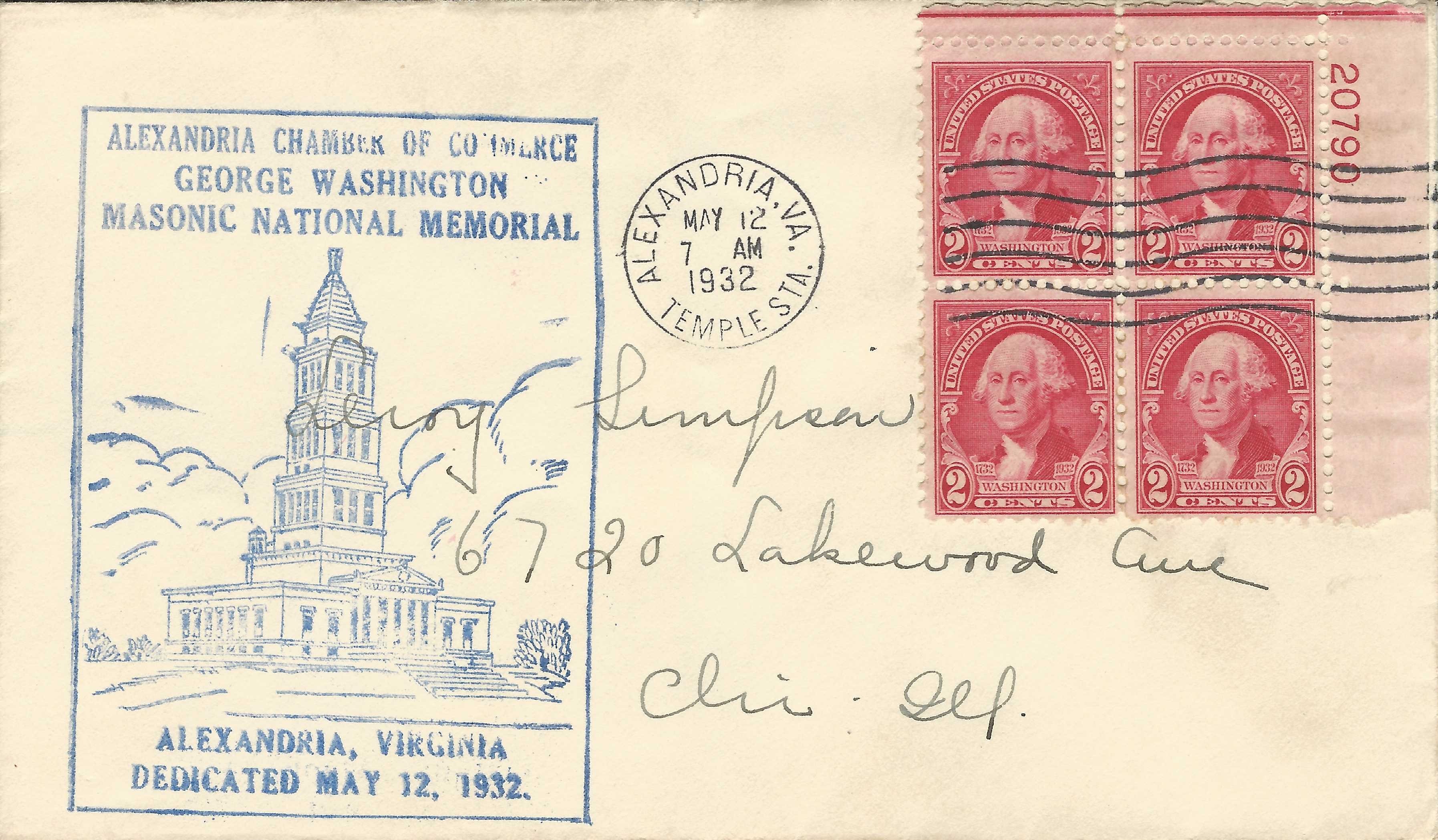 This one is not for sale... I was taking a break from the website and just stumbled on this misfiled cover in my personal collection. I thought it an interesting coincidence, so I posted it. - J Coney.
GWMNM address:
101 Callahan Drive, Alexandria, VA 703-683-2007
---
---