Moses Leroy Nafzinger
November 6, 1929 - April 27, 2020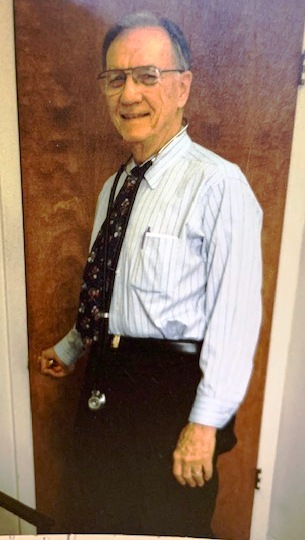 Moses Leroy Nafzinger, age 90, passed to the Celestrial Lodge above on April 27, 2020 at Thornapple Manor in Hastings, Michigan.
He was born on November 6, 1929 on the family farm in Long Green, Maryland to Lois Krabill Nafzinger and Lewis M. Nafzinger. He graduated from Towson High School, in Towson, Maryland, Juniata College, in Huntingdon Pennsylvania, and received his medical degree from the University of Maryland in Baltimore. He met his future wife, Jean Larue Wolfe, when she was in nursing school at Church Home Hospital in Baltimore, while he was performing his residency there. He entered the US Navy and was stationed at Quantico, Virginia. He and Jean opened a medical practice, that they worked in the evenings, in a room over a drugstore. After his discharge from the Navy they stayed in that area working together to provide medical services to the Woodbridge, Virginia community for over 42 years. In the early years his family lived over the office, and since there wasn't a hospital nearby, he also had a small emergency room. The family eventually moved to Fairfax Station, Virginia. He and Jean retired from their medical practice in 1998. Jean predeceased him in 2004 as the result of an automobile accident. They had celebrated 49 years of marriage. In 2011, Mo moved to Michigan to live with his daughter.
"Doctor Mo" was a kind and gentle person who treated everyone with respect. He was a quiet person, seldom seeking attention for himself, who was well-liked by all. Very intelligent, he was an avid reader, a gardener, a bridge player, bowler and a stamp collector. He was a loving husband and father; a wonderful role model. He enjoyed animals and the family home included numerous cats, dogs and rabbits. Each year he vacationed with his family in Ocean City, Maryland where he relaxed by reading books, bicycling, eating crabs and floating in the ocean. He found pleasure in feeding the deer, birds, squirrels and chipmunks that visited his backyard. He was a member of the Occoquan Masonic Lodge and rose to the Degree of Master Mason. In recent years, a livelier personality emerged and he became a favorite resident at Thornapple Manor where he moved in 2014. His daughters will be forever grateful for the excellent care that he received there. The staff treated him as if he were part of their family and called him "Grandpa."
The GWMSC remembers him as the GWMSC President for the traditionional 2 years: 1976-78, and later Secretary for many years. It was Mo that first proposed the club pictorial postmark at Mount Vernon when he was President.
A paraphrased note from our current secretary, John Allen: Mo was the first one I had contact with preceding the first GWMSC meeting I ever attended. That meeting was September 1976 at the meeting room in Smithsonian Museum of History & Technology, which only then Cachet Chairman John N Hoffman, PhD, a Smithsonian employee, could reserve for the club. It was also a time when wives (&/or significant others) were invited to tour other nearby places during the meeting & go to the dinner afterwards. Mo was long-time Secretary; & I believe that I took over from him - it's his briefcase I still bring to meetings.
His daughter says he died peacefully- nothing related to the pandemic!
From Wather Benesch: Great loss, great Mason, and certainly one of the foundations of the GWMSC. I don't even know how many years he was President, but while attending, his support and encouragement was a significant driving force. Really like Mo.
Mo was preceded in death by his parents, Lois and Lewis Nafzinger, his brother John Nafzinger and his sister-in-law, Shirley. He is survived by his daughters Karen Moore (Tom) of Fairfax Station, Virginia and Nancy Carter (Jim) of Battle Creek, Michigan. He is also survived by his grandchildren, Johanna Moore, Kathryn Moore, Tom Carter and Becky Carter (Eric Charles), and his great-grandson Shannon Charles. He is also survived by his brother Clyde Nafzinger (Carolyn), his sisters-in-law Sandra Nafzinger and Erica Nafzinger, his brother-in-law Keith Michael and his sister-in-law Marion Michael.
Memorial contributions may be made to Thornapple Manor, 2700 Nashville Road, Hastings, Michigan 49058 or to Brain Chemistry Labs, 1130 South Highway 89, Suite 3, Jackson, Wyoming 83001 to support Alzheimer's research. In accordance with his wishes, cremation has occurred. A celebration of life will be held at a later date in Virginia with interment to follow in Fairfax Memorial Gardens, next to his wife Jean. Arrangements provided by Girrbach Funeral Home, Hastings, Michigan.
To leave online condolences visit:
Our Schedule:
The Club now meets once a year; In February.
At our Annual Meeting in February we confir the Master of Philately Degree on awaiting candidates.
Our Semi-Annual Meetings in September have been called off at this time.
---
---